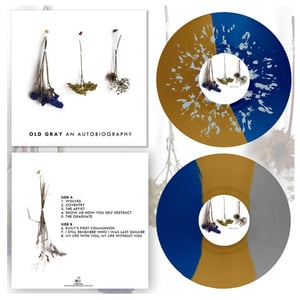 £

10.99
WE HAVE MOVED! ORDER THIS ITEM AND LOADS MORE AT OUR NEW STORE: http://dogknightsproductions.limitedrun.com/
DK038
Old Gray – An Autobiography 12" LP third Press with two new vinyl colourways and new centre labels.
"An Autobiography is our debut full length record, and as such, means a lot to us. We look at each of our releases as a representation of where we are in our lives at the time of us writing; the same couldn't be truer about this album. These eight songs are incredibly personal, as Cameron, Charlie, and I opened up as much as we could, with lyrical material ranging from a fear of death, a curiosity of death, loss, loneliness, self loathing, and more. This is the first release of ours that wasn't recorded by our friend Zak Ickes; rather, we travelled down to Dead Air Studios and recorded with the venerable Will Killingsworth, known for his work in bands such as Ampere and Orchid. Working with him was a phenomenal opportunity and was a very rewarding experience, further emphasizing the importance of this album to us. Even the album art has a very specific and calculated meaning; the three flowers represent the three of us, equal parts terrifyingly alone and comfortably together, and the photo was taken by Cameron's long-time friend, Michi Tassey. Musically, we explored our sound a lot more on this record than we have in the past, most notably with the addition of violin, played by our friend Nick Kwas. We also had Becca Cadalzo, vocalist of esteemed hardcore band Cerce, supply some of her trademark fearsome vocals. All in all, we just hope that this album is as important to our listeners as it is to us."
STREAM HERE
Dog Knights Bandcamp
TRACKLISTING
Wolves
Coventry
The Artist
Show Me How You Self Destruct
The Graduate
Emily's First Communion
I Still Think About Who I Was Last Summer
My Life With You, My Life Without You
PRESSING INFO
Blue /100 Sold Out
White w/ Gold, Silver Splatter /200 Sold Out
Gold /150 Sold Out
Silver /150 Sold Out
Half Blue / Half Gold w/ Silver Splatter /150
Blue/Gold/Silver Three Colour Stripe /150
This record is limited to 300 pieces and available in two different vinyl colourways. All copies come with a digital download code and an insert.
All orders placed through the Dog Knights store come with free flyers, stickers and digital download codes whenever possible. The more you order; the more free stuff you get.
All orders are usually dispatched within 24 hours unless it is a pre-order item. In that case, read the item description carefully and check the social network pages for updates.
If you believe your order has gone missing or arrives damaged by your mail carrier, please email dogknightsproductions@hotmail.co.uk. Any rude customers will be ignored.
If you have been charged too much for postage, send an email to receive a partial refund. Please note that postage costs include PayPal fees/packing costs.
Please read the FAQ section for more information.