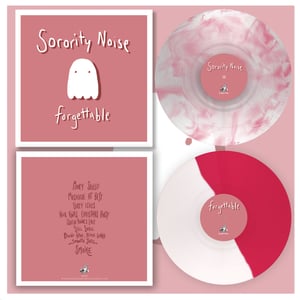 £

9.99
WE HAVE MOVED! ORDER THIS ITEM AND LOADS MORE AT OUR NEW STORE: http://dogknightsproductions.limitedrun.com/
DK059
Sorority Noise– Forgettable 12" LP
Sorority Noise includes members of Old Gray and Two Humans. Their debut LP 'Forgettable' is the catchiest emo record of 2014.
STREAM HERE
Dog Knights Bandcamp
TRACKLISTING
Rory Shield
Mediocre At Best
Dirty Ickes
Nick Kwas Christmas Party
Queen Anne's Lace
Still Shrill
Blonde Hair, Black Lungs
Smooth Jazz
Smoke
PRESSING INFO
Ultra-Clear w/ Pink & White Splatter /150Sold Out
Pink w/ White Ghost /150Sold Out
Ultra-clear w/ Pink Smoke /150
Half Pink / Half White /150
This release is limited to 300 copies with two different vinyl colourways. All records come with an insert and a digital download code.
All orders placed through the Dog Knights store come with free flyers, stickers and digital download codes whenever possible. The more you order; the more free stuff you get.
All orders are usually dispatched within 24 hours unless it is a pre-order item. In that case, read the item description carefully and check the social network pages for updates.
If you believe your order has gone missing or arrives damaged by your mail carrier, please email dogknightsproductions@hotmail.co.uk. Any rude customers will be ignored.
If you have been charged too much for postage, send an email to receive a partial refund. Please note that postage costs include PayPal fees/packing costs.
Please read the FAQ section for more information.