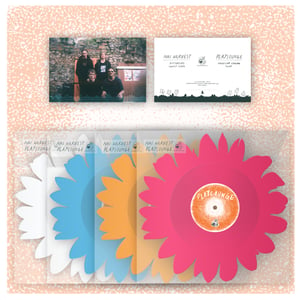 £

9.99
WE HAVE MOVED! ORDER THIS ITEM AND LOADS MORE AT OUR NEW STORE: http://dogknightsproductions.limitedrun.com/
DK060
Nai Harvest / Playlounge - Flower Split 12" Shaped EP
After almost a whole year of planning, I am delighted to finally reveal that the sixtieth Dog Knights release will be a split between Nai Harvest and Playlounge. Instead of releasing this four track EP as a standard 7" vinyl, we've decided to do something pretty special (crazy).
Q #1: What is this?!
A #1: This is a split EP between Nai Harvest and Playlounge. It's a 12" vinyl record with a 7" play surface. It has been lazer-cut into a flower shape, designed by Lew Currie. The release includes two songs from both bands; one new and one cover.
It's also worth noting that this release will never be repressed, so if you want it, don't hang about.
STREAM HERE
Dog Knights Bandcamp
TRACKLISTING
Nai Harvest - Buttercups
Nai Harvest - Sweet Tooth (Playlounge cover)
Playlounge - handclap cinema
Playlounge - Floor (Nai Harvest Cover)
PRESSING INFO
Solid White /150 Sold Out
Solid Blue /350
Solid Orange /500
Solid Pink /500 (distro/tour press)
This release is limited to 1500 pieces with three different vinyl colourways via the Dog Knights store. All copies of the record come protected in a thick PVC sleeve w/ flap to keep the vinyl secure. All copies come with a double-sided postcard insert/download card and stickered sleeve.
All orders placed through the Dog Knights store come with free flyers, stickers and digital download codes whenever possible. The more you order; the more free stuff you get.
All orders are usually dispatched within 24 hours unless it is a pre-order item. In that case, read the item description carefully and check the social network pages for updates.
If you believe your order has gone missing or arrives damaged by your mail carrier, please email dogknigh[email protected]. Any rude customers will be ignored.
If you have been charged too much for postage, send an email to receive a partial refund. Please note that postage costs include PayPal fees/packing costs.
Please read the FAQ section for more information.