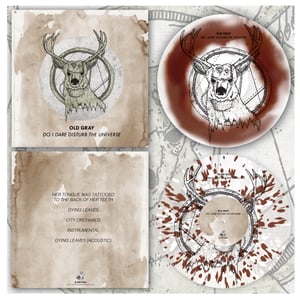 £

9.99
WE HAVE MOVED! ORDER THIS ITEM AND LOADS MORE AT OUR NEW STORE: http://dogknightsproductions.limitedrun.com/
DK076: Old Gray - Do I Dare Disturb The Universe 12" EP.
Old Gray's EP "Do I Dare Disturb The Universe" was originally released in late 2011 on CD and is now on vinyl for the first time. This single sided 12" with screen-printed B-side (Dog Knights exclusive) contains the original 4 songs from the EP and a bonus acoustic version of Dying Leaves.
STREAM HERE
Dog Knights Bandcamp
TRACKLISTING
Her Tongue Was Tattooed To The Back Of Her Teeth
Dying Leaves
City Orchards
Instrumental
Dying Leaves (Acoustic)
PRESSING INFO
Brown / White Mix /150
Ultra-Clear w/ Brown & White Splatter /350
This record is limited to 500 pieces. All copies come with a digital download code.
All orders placed through the Dog Knights store come with free flyers, stickers and digital download codes whenever possible. The more you order; the more free stuff you get.
All orders are usually dispatched within 24 hours unless it is a pre-order item. In that case, read the item description carefully and check the social network pages for updates.
If you believe your order has gone missing or arrives damaged by your mail carrier, please email dogknightsproductions@hotmail.co.uk. Any rude customers will be ignored.
If you have been charged too much for postage, send an email to receive a partial refund. Please note that postage costs include PayPal fees/packing costs.
Please read the FAQ section for more information.